Purpose:

The Moultrie County Historical and Genealogical Society's purpose is to bring together those interested in the history and genealogy of Moultrie County, to discover, collect, and preserve any material which may help establish or illustrate the history of the area and all its people, to provide for the cataloging and for the preservation of such material and for its accessibility to those who wish to examine or study it. Also, to stimulate and encourage an interest in the genealogy of our ancestors,  to promote and publish historical and genealogical material in a scheduled publication covering Moultrie County, and other counties, neighboring states and other areas form which our settlers and ancestors came.






Hours:
The Heritage Center Research Library & Museum is open to the public during the following schedule:
Monday & Saturday, 12:00-3:00 p.m.
(In case of bad weather, facility may be closed.)
To arrange visits on days our facility is not scheduled to be open, you may contact:
(217)728-4085
Meetings:
Regular meetings of MCH&GS are held the third Thursday of each month at 7 p.m. in the Heritage Center with the exception of the Annual Dinner Meeting held the third Thursday of November at a location determined yearly. No Regular meeting is held in December. The general public is always welcome to attend.
The Executive Board of MCH&GS meets the first Tuesday of each month at 7:00 p.m. in the Heritage Center Research Library, 117 East Harrison Street, Sullivan, Illinois.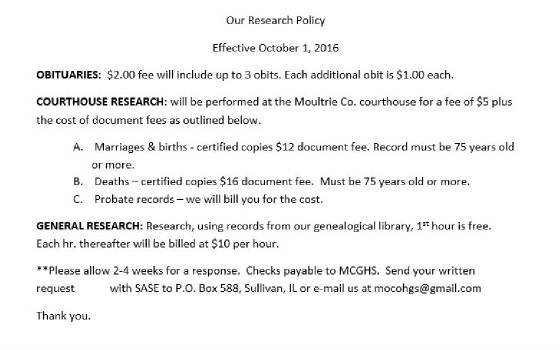 Moultrie County, Illinois formed in 1843 from
portions of Macon and Shelby Counties.
Remember our Veterans and
Support our Troops!